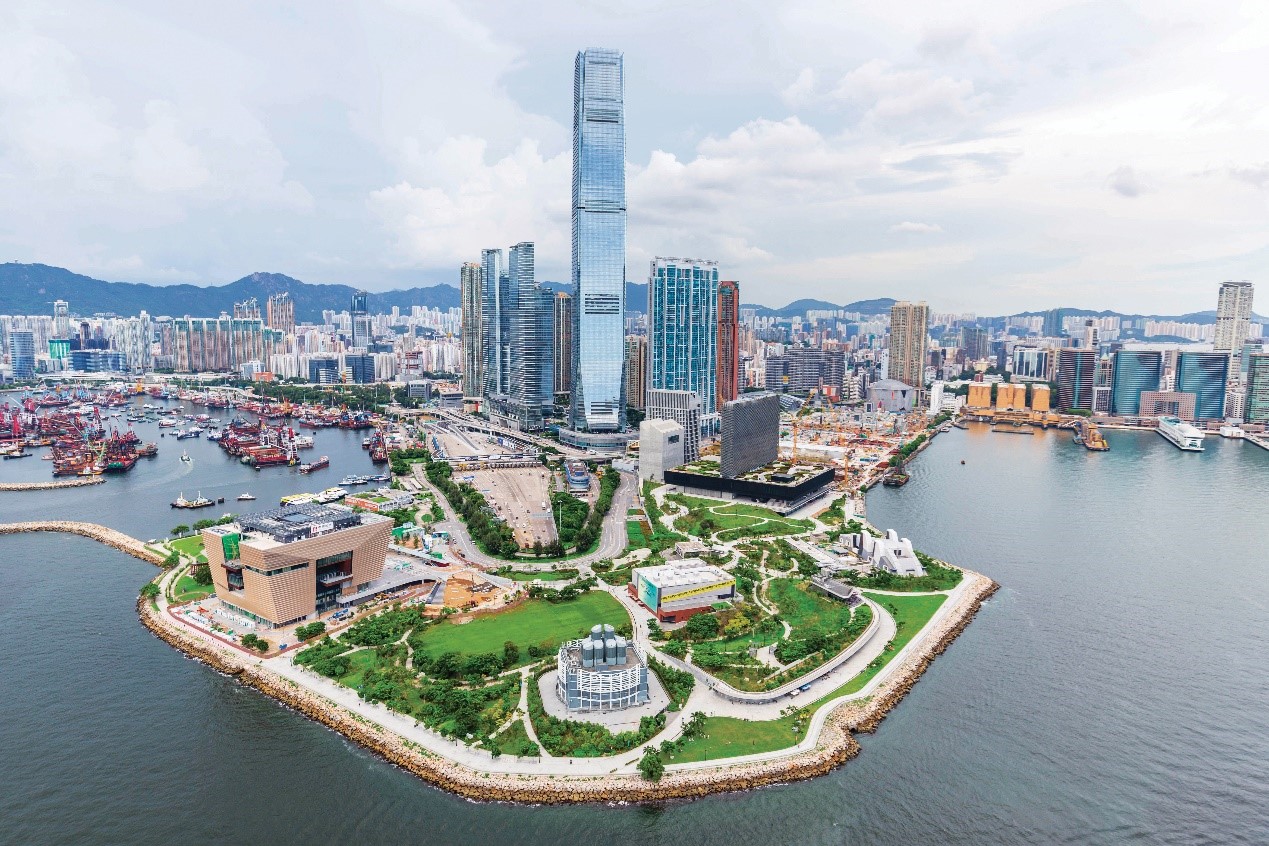 The West Kowloon Cultural District (WKCD) project is an important cultural infrastructure investment of Hong Kong. The WKCD is being developed into a world-class integrated arts and cultural district comprising local, traditional as well as international and modern elements. It aims to promote the development of arts and culture, meet the growing cultural needs of the public and strengthen Hong Kong's position as an international arts and cultural metropolis.
The WKCD is located at the southern tip of the West Kowloon Reclamation Area with an area of 40 hectares. Within the WKCD, 23 hectares of open space including a park of prominent size and a continuous waterfront promenade will be provided for public enjoyment. After years of planning and development, the WKCD has transitioned from the construction stage to the operational stage, following the opening of two spectacular performing arts (PA) venues in 2019, the Xiqu Centre and Freespace, the Art Park, a much-welcomed urban oasis for public enjoyment was fully opened in 2020 and M+, Asia's first global museum of contemporary visual culture, was opened in November 2021. With the opening of the much-anticipated Hong Kong Palace Museum (HKPM) in July this year, the WKCD stands ready to become one of the world's most unique and vibrant arts and cultural districts.
West Kowloon Cultural District Authority
The West Kowloon Cultural District Authority (WKCDA) was established in 2008 under the West Kowloon Cultural District Authority Ordinance (Cap. 601) to develop the WKCD.
The WKCDA will continue to enrich Hong Kong people's cultural life, build audiences, nurture local talents and promote professional development through organising a variety of quality arts and cultural programmes and broadening Hong Kong's cultural exchange with other places in collaboration with arts groups, education institutions and local communities to dovetail with the completion of the arts and cultural facilities in the WKCD.
The Government and our partners take a multi-pronged approach in strengthening our cultural software through arts programme development, audience building and enhancement of arts education and manpower training. By combining these efforts, we aim at working hand-in-hand with the WKCDA to realise the vision for the WKCD.
News about the WKCD can be found at the WKCDA's website.
You need to use Acrobat Reader to read the above PDF format document files. Acrobat Reader can be downloaded in here.